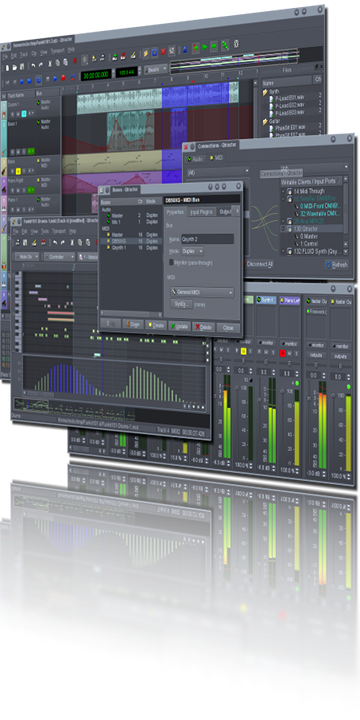 Yes, it's been like clockwork...
Every two months or so, you stumbled with a brand new dot release, code-named after some of the same adjective-plus-noun (or vice versa) code-names. You knew the thrill and yet it lands no more.
First, the code-naming joke has been just a parody--or was it the other way around?--to some well known Linux-distro alimalistic code-name series. Then on it got rogue into some directed puns--remember the date when BitWig Studio 1.0 was first released? Yeah, the "Byte Bald" was there for the pun, on the very same day :)
Well, that's all gone by now.
Northern hemisphere seasons are the new norm and that's about two main reasons: first, it's where I live; second, due to an undeniable global warming effect pervading the globe, all geographical temperate zones are simply on the edge of extinction. More or less in a couple of decades or so. For the sake of brevity, I will just leave it like paying homage to those natural concepts that are facing an inexorable fate.
And yet, there're still the good news:
Qtractor 0.8.4 (end of summer'17) released!

Change-log:
Assigned MIDI Controllers to plug-in's Activate switch are now finally saved and (re)loaded properly across sessions.
Audio clip panning option property is now being introduced.
Out-of-process (aka. dummy) VST plug-in inventory scanning now restarts automatically and resumes processing in case of a premature exit/crash; VST plug-in inventory scan/cache persistency is now in place.
Desktop entry specification file is now finally independent from build/configure template chains.
Updated target path for freedesktop.org's AppStream metainfo file (formerly AppData).
Changing the View/Options.../Display/Custom/Style theme takes effect immediately unless it's back to "(default)".
Slightly slower but better approximation to IEEE 32bit floating point cubic root ie. cbrtf().
Description:

Qtractor is an audio/MIDI multi-track sequencer application written in C++ with the Qt framework. Target platform is Linux, where the Jack Audio Connection Kit (JACK) for audio and the Advanced Linux Sound Architecture (ALSA) for MIDI are the main infrastructures to evolve as a fairly-featured Linux desktop audio workstation GUI, specially dedicated to the personal home-studio.
Website:

Project page:

Downloads:

Git repos:

http://git.code.sf.net/p/qtractor/code
https://github.com/rncbc/qtractor.git
https://gitlab.com/rncbc/qtractor.git
https://bitbucket.org/rncbc/qtractor.git
Wiki (help wanted!):

http://sourceforge.net/p/qtractor/wiki/
License:

Qtractor is free, open-source Linux Audio software, distributed under the terms of the GNU General Public License (GPL) version 2 or later.

Enjoy && Keep having fun.